For those of you in bear country, this may be what the doctor ordered. I found a solution last year that has all but solved our issues with bears tearing down our cameras. I can't tell you the level of frustration I had to receive pictures like this.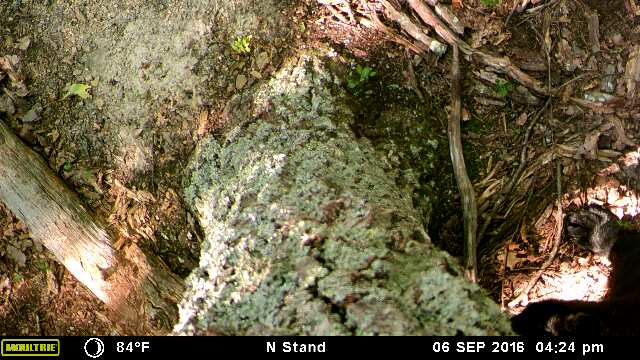 But alas, I have found a system that works. We've been using this method for almost 2 years now and not a single bear has been able to circumvent it thus far. Sadly, we've seen several attempt it unsuccessfully.
We place all of our cameras in trees about 10-12 feet up when possible. Most are on public land so it keeps it out of sight from those who have ill intentions and with the camera pointed down, I get less images of limbs and branches moving.
So here's what I came up with. It's a block made out of 2x6 that has wire turnbuckles screwed in on 3 sides.
The face of the board has 4 holes drilled through it to accept heavy duty zip ties which threads through the strap slots. Not only are these adjustable, but they have some give if something was to tug on it.
The turnbuckles are on the top and both sides. This creates a method to secure both vertical and horizontal movement. With them being adjustable, it allows for micro adjustment if you need to change the direction of the camera.
It's all bolted down with 2 inch lag bolts. I have literally hung from this mount and it hasn't given a bit. A bear is pretty powerful and destructive so I won't go so far as to say bear proof. Maybe just "bear resistant"
Feel free to pirate the idea for your use if you'd like. And if you have any other ideas or suggestions, I'm all ears!